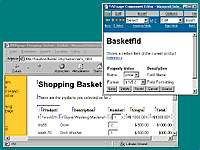 RADpage includes a powerful "CGI" script library.
WYSIWYG installation and configuration.
Browser based installation and configuration of all scripts.
Embed components (as scripts are called in RADpage) inside ready designed pages.
Edit pages with components in your favorite editor.
Combine multiple components on a single page to construct better customized applications.
Install RADpage on your server just like a CGI script or use the high speed server API version.
Read more on
---
This page was dynamically generated by the web application development tool RADpage of H.E.I. See the new demo "Was ist AJAX? " (in German). In Germany H.E.I. provides Webdesign in Mannheim and Web Programming (Programmierung).
© 1996-2013 H.E.I. All Rights Reserved.