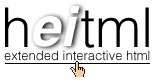 ---
Supported Platforms
Linux Version
---
General
There are packaged RADpage/heitml versions that install almost automatically and a generic version, that requires some compilation during installation.
A packaged version contains a binary that has been built on an Intel Pentium machine with one of the Linux distributions (e.g. SuSE, RedHat, etc.) installed. It has been compiled against a certain Web server and Database system version, that has been shipped with the Linux distribution.
The list of packages supported by the latest heitml/RADpage release, can be found on the heitml/RADpage Download page.
If you want heitml/RADpage to run with a version of a Database system which is not supported by one of the packages, the generic version is required.
Read more about the packaged and generic versions for heitml/RADpage on the Apache page.
---
This page was dynamically generated by the web application development tool RADpage of H.E.I.

Selected blog articles : 3D Objects on HTML pages, CSS Transition Visibility, and CSS Transition Display.


© 1996-2022 H.E.I. All Rights Reserved.